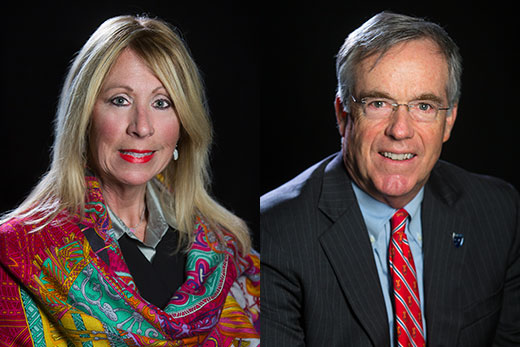 Edward Jenner Wood III, chair of the Robert W. Woodruff Foundation, and Sarah Beth Brown (89B), global customer director at The Coca-Cola Company, have been elected to Emory's Board of Trustees, according to a Dec. 13 University press release.

Wood was appointed in May 2018 as chair of the Woodruff Foundation, which makes grants for improvement projects to Georgia, according to the foundation's website. In January 2018, the Woodruff Foundation pledged $400 million to Emory, the largest gift received by the University to date, to help fund the construction of a new Winship Cancer Institute Tower in Midtown Atlanta and a new Health Sciences Research building.

Wood serves as a director at Southern Company, Genuine Parts Company and Oxford Industries and a former director at Crawford & Company, according to the Woodruff Foundation website.

Wood's career was largely spent at SunTrust Banks, where he held various executive positions including chairman, president and CEO, until he left the company in 2016, according to SunTrust's website. Wood formerly served as a trustee to Agnes Scott College, according to the Woodruff Foundation website.

Wood received a bachelor's degree from the University of North Carolina at Chapel Hill and an MBA from Georgia State University, according to the University press release.

Brown, an Emory alum, is a trustee of the John and Rosemary Brown Family Foundation. She is the namesake of the Sarah Beth Brown scholarship, which provides MBA students with financial assistance to attend Goizueta Business School, according to an October 2013 press release.

The foundation also donated $280,000 to Emory in 2017, according to a 2017 tax return.

Brown worked in medical equipment sales in Houston at Johnson & Johnson and Bayer before joining Coca-Cola in 1989, where she worked in sales and sales management. In 1996, she relocated to Coca-Cola's Atlanta headquarters.

Brown graduated from the Kelley School of Business at Indiana University with a bachelor's of science in business and holds an MBA from Goizueta Business School.

The University did not respond to the Wheel's requests for interviews with the new trustees.

The Board of Trustees holds authority on all matters of university governance, exercises fiduciary responsibility and makes University policy, according to its website.

The Board of Trustees consists of 45 total trustee positions, including 34 term trustees chosen by the "trustee's governance, trusteeship and nominations committee" and 11 alumni trustees elected by the Emory Alumni Board. Potential term trustees are confirmed by the executive board of the Board of Trustees, according to a Jan. 22 University press release.