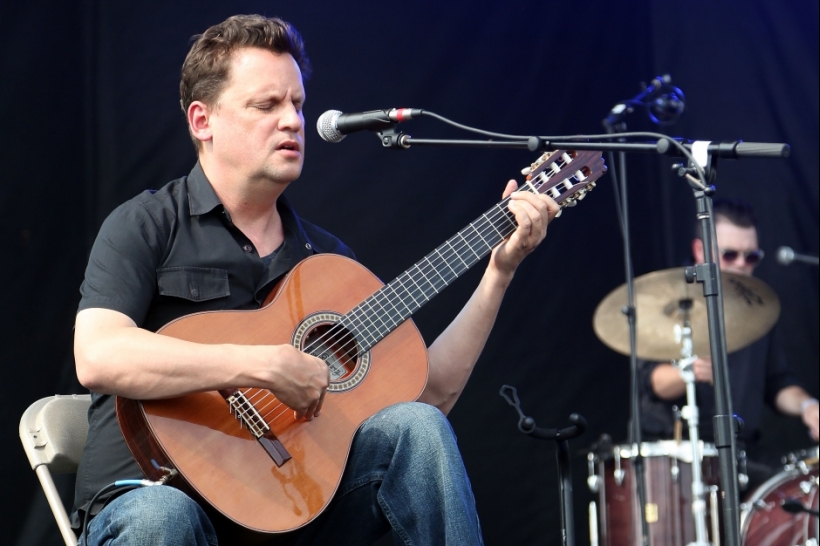 Singer-songwriter Mark Kozelek could be described in a lot of very different ways: sober, maudlin, wise, rambling, talented, asshole, out-of-touch, sexist. He's been deeply involved in his craft for the past 20 years, directly confronting, challenging critics and fans alike. He's even the type of guy to curse out a writer during a show just for requesting interviews from his peers for a piece about him. But above all, he takes how people experience his music very seriously.
And with his latest release, none of that's changed. Common as Light and Love Are Red Valleys of Blood is Kozelek's newest album under the moniker Sun Kil Moon, his primary project since the breakup of his famed slowcore band Red House Painters in the early 2000s.
While Kozelek's always been a confessional songwriter, he generated large amounts of acclaim for his work on his last album, Benji. He let go of any emotional inhibition and created an album defined by detail, ranging from the inane ("And we ate at Perry's and I ordered crab cakes") to the intensely personal ("She reached down my pants and discovered I was bald"). It provides you with a clear, intimate sense of who Kozelek was at the time — it's apparent throughout the album that Kozelek's only trying to build on top of this and go further.
And that's a mission that completely consumes Common as Light and Love Are Red Valleys of Blood. Fittingly, "God Bless Ohio" is the opening track, a link between his newest work and the main backdrop of Benji, Kozelek's childhood home of Massillon, Ohio. The first minutes are dedicated to a walk through the streets of that home, with Kozelek painting vivid images of childhood memories over a wistful melody on steel guitar.
But as his mind wanders, the nostalgia focuses on family and Kozelek begins to fear their deaths, remembering those he's lost already. He questions why he's still alive, asking exactly what saved him from the "dark clouds hanging over" his childhood home. The chorus comes in before he can find an answer, with words that sound like praise when taken alone but in context assume an eerie ring: "God bless O, God bless O, God bless Ohio."
The majority of the tracks on this album are structured differently — many feel more like unabridged diary entries than anything else, accounting for its daunting two hour and nine minute runtime, more than twice the length of Benji. But it's an intentional step taken toward creating something genuine, and Kozelek is in no way interested in sacrificing content for brevity's sake. He's righteous in the long-winded, prosaic nature of his own lyrics, even making fun of writing any other way. On "Vague Rock Song," tongue firmly in cheek, he begins by singing about his desire to make a fun, likeable track of the title's persuasion. He spends about a minute singing some weird harmonies over what sounds like a xylophone, narrating what they sound like in real time, before returning to talking about his day.
Kozelek is equally unafraid to face politics: multiple verses on "Lone Star" find him pleading with North Carolina regarding their "bathroom bills" and criticizing President Donald J. Trump's divisive rhetoric.
Kozelek's is a very polarizing style, and it's one that's only compounded by his controversial public figure. If you take the composite of the various people whom Kozelek's been painted as by critics, you end up with something blurry, an image skewed too far toward both the good and bad. Yet if this album, or the rest of his musical output with Sun Kil Moon, has a central message, it's that being human is an inherently messy affair full of contradiction, and we're prone to screw it up — but that's okay. As much as that pain is real and pervasive, joy and love do exist and are worth living for. Just like its predecessor, Common as Light and Love Are Red Valleys of Blood is another resoundingly personal meditation on that message.
Grade: 4/5